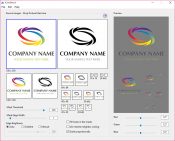 iConStruct is one of the smartest tools for creating your favorite icons from large-size images, photographs, and other file formats containing pictures. It works without compromising on the image quality or the resolution. The downsizing happens according to a specific logic and algorithm, which is pre-written by the program creators.
It is designed to work at the best levels when the images are white. According to the iConStruct designers, it gives the best results. But you can also work with images when they have a light-colored background. Then you may have to use software like Adobe or other solutions to remove the background or lighten it if it is too dark or bright.
It works best to generate the 32-bit icons and the 8-bit icons. In some cases, you might feel they are too small compared to the quality and the size of the images generated today. But the practical experience of the users shows many benefits.
The next benefit is for web programmers who develop online applications. The software is highly useful when creating PowerPoint or other presentations. The command buttons, scroll-down lists, combo boxes, and the customized user windows can make use of the high-quality icons. It is possible to insert the icons into narrow locations without compromising quality.
The vast inbuilt help features enable you to install, configure, and customize the iConStruct. The other benefit of the app is the continuous updates to the software by the designers and developers. In case you find any limitation or bug in the current version, it is possible to inform them and they will fix the bug and overcome the limitations on the next version.