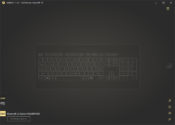 reWASD is a gamepad mapper that gives you versatile options. Whether you are trying to map your Xbox controller to your mouse and keyboard or vice versa, it is possible. You are not limited to that.
There is also the possibility of using a PS or Nintendo controller, which some mapping software does not provide. In our opinion, it is one of the benefits that set this app apart from similar offerings.
Control Over Your Gaming Experience
You have a lot of settings at your disposal with this tool. You might like triggers and mouse clicks but don't prefer joysticks. You might rely on various gamepads, buttons, keys, or movements in your gaming experience.
No matter how you want to customize it, you can control how you play your games, whether for fun or competitively.
Freedom from Constraints
Traditionally, you are locked into whatever controller or device the game requires. But when playing on PC, you can leverage technology like this to ensure that you always use the layout or controller of your choice.
You don't need native Xbox support to achieve it, either.
A Valid Replacement
You are lucky if you want to replace your Xbox One controller. Some people prefer their Nintendo or PS controllers over everything else. With this software, you can easily use another controller in place of it.
That's why reWASD is a must-have for control over what you're using in any environment. You will be ready to go in very little time by simply remapping it from the settings.
Advanced and Ready to Go
Essentially, you can get going from the moment you download the software. As long as your device supports it, your controller can become a customizable tool that fits your playstyle to the specific combinations of buttons you want.
Whether it's turbo, auto-fire, or more, it's worth checking out.