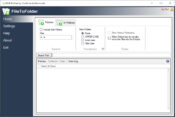 FileToFolder helps you create folders for each file in your directory, saving you a lot of time by automating your folder creation process.
Creating new folders can be time-consuming. If you're looking to create folders for every file in your directory, you might spend quite a lot of time doing so.
With the FileToFolder tool, you can automate the process and save time, making your life much easier when creating folders.
Clean and Simple Interface
The tool's interface is simple, and there's nothing too complicated. It does its job expertly, as it can help you specify the folder with the files and items you're looking to process and then do so quickly.
The interface allows you to easily find the files and folders you're looking for. You can search files with the help of the file extension filter, which will filter out all the files of a specific file type.
With the Windows Explorer integration, you can easily select the files you want to process by clicking on them and selecting them for processing.
Create Folders Easily
Another useful feature of this app is the ability to create folders without having files inside these folders. You can also include and create subfolders, and you'll also be able to delete empty directories, which is great if you're looking to conserve space and make your computer more organized.
With the log, you'll check the whole procedure and see if there are any errors during the processing. It doesn't happen often, but it's always nice to have an overview of what's happening.
Another useful feature of this tool is the reverse folder creation process to move files out of the folder and into the current directory you're using.
Easy and Quick to Use
One of the more attractive features of this app is that it's so easy to use. It makes it a beginner-friendly tool that won't take much time to understand. Even complete beginners will make sense of the simple interface, while the tools offered by this app are somewhat simple and easy to understand.
Another thing to note is that this tool works very quickly. Although the tool's speed will also partially depend on the strength of your computer, you'll be able to complete the folder creation process in just a few seconds.
At the same time, it doesn't take up a lot of your computer's resources, which is always great, especially if you don't have a very powerful computer with many resources.
Conclusion
FileToFolder is a great tool that will help you easily create folders for individual files without wasting much time.
It does that quickly, painlessly, and without being too complicated for beginners, making it a beginner-friendly application that almost anyone can use.