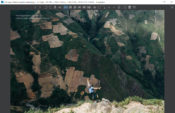 ImageGlass could surely replace the standard viewer for many Windows users. While Photo Viewer comes pre-installed on Windows and does a serviceable job, a lot remains to be desired.
If you have ever used Photo Viewer on Windows Vista or Windows 7, you likely have issues with simple image formats like GIF or PNG files. It can do everything that Photo Viewer does and more. It has a suite of features without being a heavy application.
However, this application quickly loads these formats due to RAM usage that preloads images. You can reorient or resize images easily, something not offered in Photo Viewer.
What to Know About This Free Software
ImageGlass has a crisp and minimalistic aesthetic, featuring a plain main window and a toolbar with icons for navigation. We clicked on the Open File icon on the toolbar to test it out. After selecting a PNG image from our files, we could start manipulating it immediately.
It was straightforward to rotate, zoom, and scale the PNG image accordingly. Plus, converting the file was a breeze. We had to use a drop-down menu to pick a new file type and then save it in our desired directory.
Some buttons allow you to change the background, view the image in full-screen, see thumbnails, and change the settings. One of the settings worth mentioning is ImageBooster. With this, you can dedicate a certain amount of RAM to load images faster. It even applies to a series of images.
Like any good software, there is a help menu for troubleshooting. One feature that makes this tool incredibly convenient is the ability to add it to the context menu, so you can use it when browsing various image file types. We could even play around with different skins for a cohesive look.
Conclusion
ImageGlass made a good impression on us, and we particularly enjoyed being able to scale images at will, also, being able to decide whether an image scales to the rest of your screen or vice versa is a powerful ability.
A close second is a speed you can browse images using ImageBooster.
It's a comprehensive image viewer that stands leagues above the stock Windows programs.