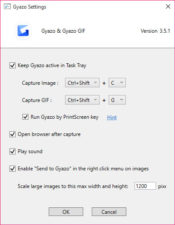 Gyazo lets you quickly take a picture of your screen by selecting an area of your screen you want to create a screenshot of and then sharing it with your friends easily and quickly.
Take Screenshots With Ease
Today, sharing your screen is becoming easier and easier. And when you do so, you'll make your life easier when you download an application that does most of the heavy work for you. Many screen-sharing applications exist out there, although screenshots remain the most popular way of sharing your screen with others.
With Gyazo, you'll be able to take a screenshot of your screen by dragging your mouse over an area you want to capture and then take a picture instantly.
The process is simple and easy, and it takes the hard work away from pressing a variety of buttons simultaneously to take a screenshot and then edit it.
Select the Screenshot with Your Mouse
The main way to use this application is with your mouse. In the main window, you'll be able to select the area of the screen you want to take a picture of with your mouse.
You'll need to drag your mouse over an area you wish to make a screenshot of, and the app will do the rest of the work for you. It is great because you won't need to cut your screenshot later.
The app will automatically upload the picture if you instruct it. You can select where you want to upload this picture and then do so in seconds. And then, you'll be able to share this screenshot with your friends or on the internet easily.
Speed is everything here, and it's also easy to use, which takes the pain away from using a tool like this one.
Conclusion
Gyazo lets you take images of your screen quickly by selecting the portion of your screen you want to share with your mouse and then uploading it to your desired platform to share it with others.