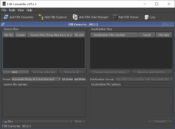 Autodesk FBX Converter allows you to convert, view, customize, change, and preview FBX files smoothly and in one intuitive platform.
Working with FBX files is made easy with Autodesk FBX Converter. If you need to convert FBX files to other formats, the Autodesk Converter will help you. It offers you a lot of freedom and certainly more freedom than most other FBX tools.
It combines a variety of tools that will make your life easier when you work with FBX files.
It combines a converter, viewer, and explorer to bring you a more complete and immersive experience from all of the converter tools for FBX files.
Convert, Explore, and View
The primary function of this tool is to act as a converter for FBX files, of course. When you work with other design tools, compatibility issues may sometimes occur. It is solved easily by this tool, which offers you conversion capabilities for FBX files.
You can convert them to various formats, including 3DS, DFX, OBJ, and DAE.
Additionally, you'll be able to convert multiple files at once. This batch conversion is helpful when you have many files you need to convert in a short amount of time. To convert, you need to select the files, select the destination folder, and convert them quickly.
There are two other tools that this app has in its locker. With the explore and view functions, you can view and explore FBX files easily to see the details, preview them, and quickly change them.
Multiple tools allow you to view these files easily.
Conclusion
Autodesk FBX Converter is a simple tool allowing you to convert, view, and explore FBX files easily and quickly.