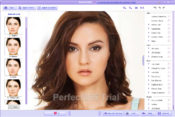 You can modify and enhance the photos you want to use on social media using Perfect365. It is an easy to use photo editing utility that can easily be integrated with your favorite social network sites such as Facebook, Twitter, and even Flickr.
It means that it is possible to share the enhanced images with your friends. It has more than 30 one-click pre-designed makeup styles, and it also has the facial feature detection and the multi-face detection too. It offers numerous realistic eye shadow styles, color contacts and even lipstick colors to choose from.
You can even design your very own makeup in this app. It comes with a facial detection that is capable of recognizing up to 20 faces in a single image. It has good functionality and some handy smart tools.
The only downside is that the software lacks the precision refinement tools that come with other image editing applications. The auto-detect feature may fail in sometimes, but overall the features can be used to improve photos.
Perfect365 offers an easy to understand interface which any user can make use of to enhance their photos.