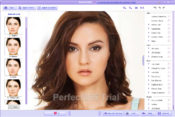 Want to change the look of your face in a matter of seconds? Then you can use Perfect365, a simple tool that will help you apply several effects to your face to help you see how you would look.
Many people want to view themselves in the mirror constantly and see what they want to change. It might be just a fun little experiment to change the color of your eyes or how your eyebrows look, but for some people, it can even be helpful to help them see what changes they might want to make.
Perfect365 acts as a virtual mirror where you will apply some effects and changes to your face inside. You can upload the image of your face and then start adding the available effects inside this tool.
You can select from the many filters that come with this app and try them on your face.
31 Filters Available
To make changes to your face, you'll first need to upload an image to the interface. That can easily be done with the drag-and-drop editor, enabling you to see some changes quickly and start making the edits you want to make.
After you have uploaded the image to the interface, you can start making changes to your portrait. With this app, you will have 31 filters at your disposal.
Some of the filters included are Organic, Natural, Smokey Eyes, Ocean Breeze, and several others. These will change some features of your face and make changes that you might want to see or test.
Make Changes to Your Face
With this application, you will have the freedom to make the changes to your faces that you might otherwise not be able to.
For example, you can change some features of your face and make them suitable to your wishes, which might be a nice tool to play with.
Conclusion
To conclude, the main purpose of Perfect365 is to help you make changes to your face and see how it would look with those changes.