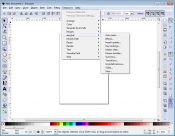 Create and edit vectors using Inkscape, an open-source vector graphics editor that allows you to add objects, use several features, apply effects, and overlay layers easily.
Vectors are one of the most widely used graphical elements. They can be used for presentations, graphics, logos, and other types of visual design.
The need for vectors is increasing; they need to be varied and cover almost every topic possible. Unfortunately, this means that vectors are still getting created all the time.
To help you create or edit vectors, you can use an application like Inkscape.
It features a professional drawing tool and a whole set of features to help you with the job, including filters, editing tools, effects, and compatibility with some of the most common file types for this job.
Powerful Drawing and Editing Tools
With Inkscape, you'll be able to create intricate vectors using the many drawing tools inside the application.
You'll have a nice selection of brushes, figures, and other tools that will enable you to create drawings suited to your taste. There's also layer support, allowing you to create layers and more complex drawings.
Moreover, you'll also have a good range of editing options at your disposal.
For instance, you'll be able to edit XML documents directly, while the app also supports document mapping, screen pixel manipulation, node editing, bitmap tracing, and other tools.
More complex tools will be at your disposal to get your job done.
Filters and Extensions
We should also mention that the application comes with a good range of filters and extensions, making your job much easier when creating vectors and editing them.
With these, you'll be able to create non-realistic 3D shaders and apply various filters that will help you achieve the desired effects.
Conclusion
Inkscape can be seen as an alternative to similar more expensive tools, such as CorelDraw.
Even though it's free, you'll find a nice range of editing and drawing tools in addition to the application's open-source nature.