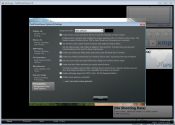 FastPictureViewer takes pride in the speed at which it opens raw images given by how it harnesses GPU acceleration and multi-threaded CPUs. The aim was to offer photographers the proper tools needed to view, review, rate, export, and sort raw images as fast as the eye can blink.
And indeed, with features like instant zooming, real-time RGB histogram, shadowing effects, labeling gadgets, and tethered shooting, this image viewer is a leader in terms of innovation and functionality.
To give you an example, the instantaneous display of the next image in line is possible by using speculative image pre-loading and in-memory caching.
It is not too complicated in terms of the number of uses, and it is the best at what this kind of program should be about. Another advantage is drawn from displaying the image on the entire screen, functions being hidden from view at the user's choice.