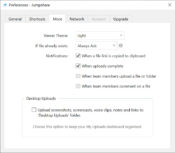 Jumpshare offers you an easy and convenient way of taking screenshots, recording your screen, and storing the footage you create on your computer easily.
Taking screenshots is one of the most commonly used tasks on Windows computers. It's appropriate for work, but also for holding conversations with other people.
At the same time, it's also important to capture your screen, which can be handy for tutorial and instructional videos.
But to create that sort of footage, you'll need to use high-quality tools. One of the better ones is Jumpshare, which is not as widely known as some other tools of the same category, but still brings a good level of functionality to the table.
It will enable you to take screenshots, record footage, and perform other actions.
Take Screenshots, Record Videos
The two main features of Jumpshare are the ability to take screenshots and to capture videos. Taking screenshots will make your job easier because you can take screenshots instantly, and you can do that by setting up hotkeys. After that, the shots will be saved to the selected destination on your PC.
Moreover, you'll also be able to record videos and audio with this tool.
There are also many other capabilities connected to this feature, including taking bookmarks, notes, and other smaller features to help you with the job.
Store and Share Files
When you complete the footage or the screenshots, you'll be able to share it with other people or on a cloud or store it on your computer.
You'll have the freedom to select where you want to save the file and if you want to share it with others.
Moreover, you'll also have encryption capabilities at your disposal, making it easy to secure your files and make them safer.
Conclusion
Jumpshare is a simple but effective tool for easily taking screenshots and recording footage and audio. You can also share, store, and encrypt the files you create with this app.