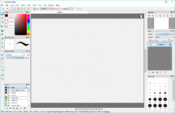 A lot of people are looking for a great image editor, and this FireAlpaca is an excellent choice for them because it will enable the users to create and even edit any images they would like without any problem. The editing process can be done from the comfort of their desktop, and this tool will help them out pretty much.
It will include a lot of options that the designers will always find useful such as the optimize, edit, view and print features that will let you make the images you want without any problem. It won`t be as good as other tools such as Photoshop, but it will have some handy features which people will like a lot. It comes with a large number of tools, and you will have the opportunity to take advantage of the color picker tool, and you will also enjoy the special effects and filters that this one will offer you.
Another thing that you need to take into consideration when it comes to FireAlpaca is the fact that it will be pretty easy to navigate and it will also be simple to use especially if you are familiar with photo editing and you have used any other similar tool in the past. If you are a beginner, this tool might take you a more extended period until you figure it out, but you will undoubtedly get a handle of it because all of the features will be easy to understand. This one might take you some time to figure out, but you will see that it will also provide you with some helpful tips and even hints which you will undoubtedly find useful.
It is a free alternative to Photoshop, and you will know that it will be pretty easy to customize and also modify the digital images.