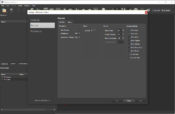 Edit and view NIF files with NifSkope, a tool that will help you get the most out of these files, import or export OBJ files simultaneously, and compare multiple textures.
If you use and do 3D animation a lot, then you've probably already worked with NIF files before. It's useful for game developers and designers creating intricate 3D models.
These files are mostly used for the Gamebryo engine, especially for creating 3D models and game worlds. However, you'll need a tool to work with these files and open them. NifSkope is an intuitive file for editing and opening NIF files and working with them.
You can create and edit 3D models in the NIF format, helping you create your own game, 3D models, and even game levels for gamers who love details.
Import and Edit 3D Models
Primarily, you'll be working on 3D models when you download this app, most likely. The good news is that this tool allows you to easily import 3D models in the NIF format and then view and edit them.
Thanks to the custom colors and highlighting materials, you can customize these models to a great extent.
Inside the tool, you'll find a graphical editor that allows you to make NIF file changes. You can also compare multiple textures and modify various parameters about these textures, making your life a lot easier.
This tool is made for NIF content, then. You can load your desired model and edit it slightly or create one yourself. You can also easily import 3DS or OBJ files. Editing these files is also possible, and you can also export these files easily.
Thanks to the intuitive GUI, you'll be able to get your work done easily, and it's also fairly easy to use, even if you're considered a beginner.
Conclusion
NifSkope is an application that helps you view and edit NIF files, which lets you work on 3D models.