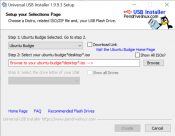 Universal USB Installer is an easy-to-use application that allows you to easily and intuitively create Linux distributions and installations from your USB drive easily and intuitively.
If you want to run a Linux distribution straight from the USB drive, you will need a utility tool like this one. It lets you easily control and create a portable USB flash drive to install the latest or your favorite Linux distributions.
Even though Linux is sometimes considered the programmer's choice when it comes to operating systems, you certainly won't need to be one to control this application. It's an easy-to-use application that will help you effortlessly get the USB Linux distributions.
Get Linux Distributions Locally or From the Internet
The application gives you direct orders and specifications of how you can start to use its easy interface. There is a step-by-step process to it all, and it's not complicated even to complete beginners.
You can set up every Linux distribution with this app –Ubuntu, Kubuntu, or Linux Mint. You can even get direct download links with this app if you're unsure where to get the distributions so that you can control all of them in one place.
You can also direct the app to the ISO file of your distribution on your hard drive.
Set up the Installation and Wait
After you've picked your favorite Linux distribution, you will need to complete a few steps. First, you'll need to specify the path of the ISO file.
Then, select the USB drive you want to create as the bootable drive. It's as simple as that! Then, wait for the process to get completed.
Normally, it won't take more than five minutes for this process to complete. It doesn't matter which distribution you choose if you have enough space on your USB drive.
Conclusion
Universal USB Installer is a simple application that allows you to easily create bootable USB drives to get your favorite Linux distributions.