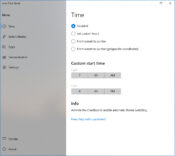 This application can perform this function automatically for users who want their computer themes to be set up for the day and night. Auto Dark Mode can help you schedule the themes of your computer by providing specific timings for the changes.
Automate Your Computer's Theme
Typically, you can switch between dark and light themes, but you can even go for color variations. With the typical night mode of Windows, you can apply it to all your computer applications. However, with Auto Dark Mode, you can even use it for all the menus and applications of your computer.
You can easily specify the colored themes for specific time intervals, and the results will be implemented automatically, helping you save time and enhancing your mood.
Effortless Night Mode Scheduling in Windows 10/11
The best thing about the performance of this application is that you do not need to keep running it at all times. It can run at the scheduled times only, so you do not have to face the problem of interference with the other computer applications.
Although the interference of the application is not very attractive, it performs its operations efficiently. Moreover, you do not have to bear the interface for longer times, which is easily manageable.
Auto Dark Mode allows you to automatically turn night mode on and off on Windows 10 and 11 by providing specific time intervals.
Conclusion
In conclusion, Auto Dark Mode offers a convenient solution for automating your computer's theme transitions, making it easier to adapt to different lighting conditions and enhance your overall user experience.
With its ability to schedule theme changes, including color variations, and efficient operation, this application is valuable to any Windows 10/11 user's toolkit.
Say goodbye to manual theme adjustments and enjoy the seamless, mood-enhancing benefits of Auto Dark Mode.