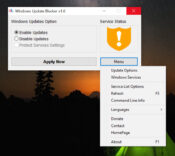 Don't want to update Windows when it does that automatically? With Windows Update Blocker, you can decide when your Windows gets updated.
Control Windows Updates Schedule
Windows updater will normally decide to automatically upgrade your Windows version to the latest one. That can be a good thing when looking for the newest features from Windows.
However, there are instances where you don't want to update the operating system automatically, and you can't avoid this by not having the right software solutions.
With Windows Update Blocker, you can decide when and if your Windows gets updated. You can block updates and instruct the application to do so if you don't want to upgrade.
It's a lightweight application that will work seamlessly to let you avoid updates by Windows when you don't want them.
Discrete And Easy To Use
Windows Update Blocker is minimalistic. To install it, you only need to decompress the available archives with the download files. Then, once you open up this app first, you'll be welcomed by a small window.
It doesn't have many features, as it's a very simple application that serves one purpose – to let you control your Windows updates.
This app can save you a lot of headaches. You can instruct the app if you still want to use some Windows Services. But you can disable future Windows updates with just two clicks, and the application will work automatically.
You'll also see the app's status in the main window, as it will tell you if it is turned on.
You can also do some configurations, such as Run a Program or Restart a service, although you'll also be able to access these settings from the app's menu. But most of the work will be done automatically once the service is on and enabled.
Conclusion
Windows Update Blocker allows you to decide when you want to update your Windows and block future updates if you choose to, which can be due to many different reasons.