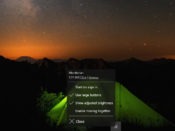 You can handle a group of computer monitors with a single application. Monitorian allows you to adjust the brightness of all the monitors connected to a device. It is a lightweight and easy to use application, which can be accessed from the tray. The single click access provided by this application can save your time in performing the desired function efficiently.
You can customize the outlook of the application based on your needs. However, in the default version, two buttons are the part of the interface. You can even select some of the monitors from the network to apply specific brightness settings. The ones, which will be selected, will show the brightness changes and the ones who would have been dropped out would remain as they were.
One of the things that you must note here is that the changes in the monitor can take a few seconds to show up. Monitorian does not support instant change of the parameters, so you will have to wait a few seconds before your command can be executed.
Monitorian is a tool for handling the brightness level of multiple computer monitors at once.