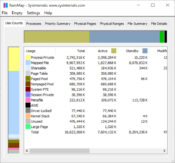 If you aren't sure about your computer's memory usage, you can use RAMMap to measure it. It can analyze the current memory usage and provide you with solutions to optimize it. Furthermore, it can save the data on the hard drive to be reviewed later.
Color-coded description of the data generated by the application makes it easier to understand. The active processes can be coded in one color and the ones that have been stopped in another one, thus ensuring that color usage could reveal the best information.
The memory used for each process, priority summary, pages, and ranges used, along with summary details, are features that you can get through this app. The details that you can look at include file type, physical address, size, type, and priority of the processes are also indicated using this application.
You can use the counts generated by this application. Additionally, process working set sizes can also be gauged. Moreover, the display of file summary and physical pages is among the other features you see through this application.
RAMMap provides an overall outlook of the processes working on your system and the provision of excessive details about them to ensure that you have everything you'll require for the analysis of the problem.