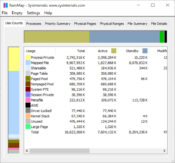 RAMMap is a lightweight application that helps you analyze your PC memory and make sure the memory usage is not too high.
When it comes to multitasking, you must know where your RAM is used because this memory is crucial for enabling you to use several tasks simultaneously and perform them quickly.
And if you're able to analyze the memory you use, you'll optimize the tasks that use the memory, which will help you make sure you run the computer as quickly as possible.
Evaluate Memoty Usage
RAMMap allows you to analyze how much memory you use, which helps you optimize the memory that your computer uses. It's a highly portable and lightweight application that helps you analyze your memory usage on a variety of your computers.
You can deploy it on your computer or through your USB drive easily.
Portable and Easy to Use
Thanks to a straightforward interface, you'll be able to make sure that your computer doesn't use too much memory on either of your devices. The interface has a couple of tabs where you can analyze all the processes.
It's simple to use, and it will show you all the data and statistics you need to know about memory use.
The most important feature is the memory analysis of your running processes. It will tell you which processes use the most memory, which can help you understand which applications you need to optimize and which ones consume your computer's most memory.
It features a color-coded interface that helps you understand which processes are running, which ones are using a lot of memory, which apps are on standby, and which processes are modified or poorly optimized.
You'll also get other important statistics, such as the priority summary, physical pages, memory used in kilobytes, file types, and other.
To conclude
RAMMap is a simple application that helps you analyze the memory usage of your running applications and it helps you optimize the memory usage of your computer.