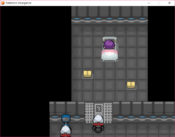 Pokemon Insurgence has many features designed to make your experience unique while playing the game. Whether you are a casual player or highly competitive, this tool offers you the fun and action you want. You have to be the hero of a new region, and you can have fun with the game as the plot plays out.
You can put the Pokemon you know and love in a different context because new variants of Pokemon have been discovered.
This game also offers you mega evolutions to try out, designed to fit different kinds of teams. Trading is enabled online, so you can trade with your friends and other people to get your perfect team.
You can even visit your friends' secret bases and try to collect their flags.
Pokemon Insurgence has three different difficulties, and you can play in the difficulty mode that fits your playstyle. The Challenge Modes are also available for you, and you can use the Nuzlocke Mode, Randomizer, and even other modes you want.
You can customize your character with different clothes and catch all 722 original Pokemon from generation 1 to generation 6.
Pokemon Insurgence also allows you to customize your secret base and use armor to increase your Pokemon's defense. The battling simulator fills your competitive needs.