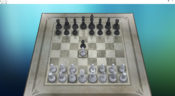 It's hard to pass up the option of playing chess for free. But Chess Titans presents additional benefits upon review. There must be something good about an application that came from humble beginnings.
This game was only initially designed to be a program that showed off the capabilities of Windows Vista. You might feel nostalgic for this program after they stopped shipping it for new releases.
Or perhaps you want a reliable, fun way to play chess. From our research, this free chess game can suit both needs.
Free Chess Game
Oberon Media is the company that first made the game. They have removed much side content that typically comes with these games. By doing so, it means you don't have to deal with a lot of third-party requests or non-essential features. You can change the difficulty level and play some pure 3D chess.
The program allows you to rotate the chessboard to get a different view. Sometimes, this helps you strategize about various moves and move sets. You'll even be able to customize the look with unique skins.
Great for Beginners or Pros
The game was designed with beginners in mind. It gives you unlimited time to make your moves. It means that you can think about it and learn the game while playing at the same time.
Whether you have a keyboard, mouse, or controller, you can use any of them to control your pieces.
Additional Games Included
You might like to play chess sometimes, but then you want to try something else. You can install other Windows games like Hearts, Solitaire, and Minesweeper if you choose. These are classics that bring up great memories for many digital gamers.
With various game modes, customizable skins, and various levels of difficulty, you can certainly get your fill of chess with Chess Titans.
We found it relatively easy to set up and start playing, making it ideal for beginners and still challenging for experts.