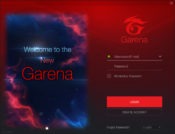 Are you a player of the most popular e-games? Then you can use Garena, which is an app that will allow you to communicate with other players, chat with them, send and receive files, and more.
The world of eSports is still developing, although it is now bigger than it has ever been. More and more people are interested in these games; however, one of the problems that many gamers face when they want to communicate with other people is the lack of built-in tools that offer effective communication.
This application will help you chat with other players, make new friends, send files, and connect with other people who play the same games as you do.
It's an excellent tool for getting to know other gamers with similar interests, as well as retain old friendships of yours.
Connect with Gamers
Garena is specifically made for modern gamers of eSports games. It is an instant messaging tool primarily, although it does come with some neat tools that enable you to have a complete communication tool if you want it.
For instance, you'll be able to send messages and chats, but that's not all. You will be able to send files and other types of messages, and you'll also be able to view the message history and send emoticons.
What is more, you can customize your account fully to change your nickname, set a status, and connect easily with new people.
Get to Know People
It is a good socialization tool if you're craving connections when you play games.
If you like getting to know people when you play games and those that play the same games as you, then it's an excellent tool to use because it allows you to chat with existing and new friends and get to know new friends.
Conclusion
Garena is a highly popular tool for chatting with other gamers and getting to know new people that play the same games as you.
One of the limitations of this application is that not every game discussion is supported by it. If you like only a few games, you might not find your game on the platform, thus rendering this application useless. Some of the prominent games that are part of Garena include Age of Empires I and II, Battlefield 2, Borderlands, Call Of Duty: Modern Warfare and World At War 1 and 2, Counter-Strike: Source, Left 4, Dead 1 and 2, Red Alert 3, Starcraft, Team Fortress 2 and Warcraft 3.