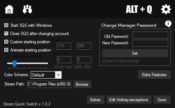 Steam Quick Switch is a smart utility that allows you to manage different Steam accounts easily. The user interface is simple and intuitive. It will enable you to define your account by inserting the username and password. The application enables you to set up a master password To protect these credentials.
You can switch any time from one account to another by clicking the one you need from the home window.
Furthermore, the application allows changing the theme color to the one you like. The dark mode is the default, but you can choose from purple, pink, red, yellow, orange, green, cyan, and blue.
All-in-one, Steam Quick Switch is a great tool to change from one Stem account to another with one click.