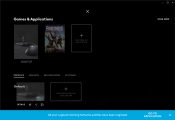 Logitech G HUB allows you to customize your Logitech G gear, such as mice, keyboards, headsets, and speakers, and help you redefine your gaming experience in one app.
If you own a lot of Logitech G gear, you will most certainly be required to install this app. It allows you to control and set up your gaming peripherals to enhance your gaming experience and take it to another level.
If you love gaming and immersing yourself in games completely, then you need to customize your peripherals so that they will allow you to do that.
Control Your Experience
Logitech G HUB is a new alternative to Logitech Gaming Software, which has been the go-to software for customizing Logitech peripherals until now.
G Hub brings an entirely new feel to the table. It's more modern and has all the latest settings, so you're not left behind. The user interface is also more polished, which improves your experience ultimately.
G Hub will automatically detect your peripherals. It allows you to change lights of your equipment, set effects, adjust the brightness, or change the color rate. From there, you can customize your gaming gear with little to no fuss, thanks to the drag-and-drop interface.
Advanced Features
If we go deeper into the features, you will find that this utility has a wide array of options for your convenience.
You can get creative and change the freestyle functions of your keyboard. You can change and assign keys for recording, commands, and other similar features. You can also create a different account if you want to share your work with your Logitech gear.
It also allows you to look at other people's profiles and see what they have done with your gear to get inspiration.
Conclusion
Logitech G HUB is an all-in-one management platform for your Logitech gear. You can customize, set up, and change the preferences of your favorite Logitech peripherals.