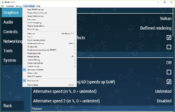 PPSSPP acts as an emulator that will enable you to play PSP games on your computer that uses the Windows environment and features support for PSN downloaded games and ISO files that you own.
PSP, or the Playstation Portable, was one of the most popular gaming platforms or consoles. It allowed users to play their favorite games anywhere and at any time and also featured some great games that gained popularity with users.
Many users want to experience these games differently – on their computers. For that, you'll need a PSP emulator – one of them is PPSSPP, a great emulator that allows you to play PSP games on your computer.
It features a big library of games you can play and some demo games you can try.
Play PSN and ISO Games
One of the main ways you can access the PSP games you might have already owned is through the PSN store. You might have had a great library of games already, but you couldn't play them anymore for many reasons. Some players get nostalgic for these games as they don't own their PSP anymore.
At the same time, you can also use the ISO input to play your games. You'll have to own the ISO files of your preferred games. These can be downloaded on several sites, and they can also be bought.
With this emulator, you can download them from PSN or use ISO files to play your favorite games.
Debugging and Additional Settings
You'll be pleased to know that this application also has a debugging feature that will eliminate bugs for you. Several tools exist, such as the GE debugger, the disassembly utility, and more.
You can also configure how your games look and work.
Conclusion
PPSSPP is a popular PSP emulator that will allow you to play your favorite PSP games on your computer.