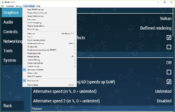 PPSSPP is one of the software to provide you with an enhanced gaming experience for your Sony PSP games. Through this app, you can play your games in HD resolution. It also allows you to improve the original texture of the games that were initially designed for the small screens of the original Sony PSP, thus resulting in sharper and crispier image that can provide a better view to your game.
You can play your favorite game on Android devices including tablets to give you a larger screen to view and enjoy your game. The on-screen touch controls are available to the users for the Android screens.
Another benefit provided by this utility to the users is that you can store your game at any point in time very quickly and you will recover it from the same moment later on. Additionally, transferring a game from PSP to bigger screens such as tablets will not be an issue if you are using this software as it allows you to continue your game where you left on your PSP because of transferring saves feature.
Anisotropic filtering and texture scaling facility provided by the application are responsible for the enhancement of the characters and the upscaling of the entire gaming environment.
Overall, using PPSSPP can change your entire gaming experience by facilitating you with better images and easy transfers of games from PSP to the bigger screens.