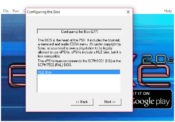 If you are looking for a Sony PlayStation emulator for your PC, then this application is the right choice for you. ePSXe allows you the complete functioning of the PlayStation on your computer with the minimum limitations. It can handle the GPU, SU, and CD-ROM drive functions by using the plugins. Moreover, it provides you with a variety of options to load your game. You can initiate your game through the optical drive or backup image of the game.
Moreover, ePSXe allows you to make configuration settings that would help you in customizing your user experience and creating an environment where you can generate the best results. Additionally, this application also allows you to test your game and apply patches to the current version of the game. Thus, providing you with a way to enhance the overall functionality of the PC as a PlayStation.
This application has been designed to allow the two-player games by using a particular device. It works on touchscreen devices as well and can also detect all the other hardware devices that are the part of your system too.
With all these features, you can consider it one of the best options that you can have for this purpose. However, there is one limitation associated with Epsxe, i.e., you cannot use it with other gaming consoles. It is explicitly designed to be used with the PlayStation. Additionally, using Epsxe is not free. You need to get a paid version of the application to get the real fun from this application.
ePSXe is known as the best emulator for PlayStation on your PC. With the features of easy configuration, support for the two-player mode games and the ease in the detection of finding all the hardware attached makes it a perfect emulator.