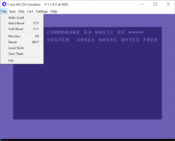 Hoxs64 is an emulator of vintage games from the Commodore64 platform that allows you to instantly and effectively play those epic games on your computer.
The Commodore64 is one of the oldest gaming equipment pieces, but it's still one of the more popular historical ones. It produced some gaming gems for players who still remember those games with a bit of nostalgia.
And when this nostalgia hits, you have no choice but to play these games again and experience the good old times.
Luckily, you can now do so on your computer – thanks to Hoxs64, a Commodore64 emulator that will instantly help you play vintage games. It's the only application that will help you emulate Commodore64 fully to experience the Commodore64 platform again in all its glory – including the best games from the platform.
Load T64 Files and Use Them
With Hoxs64, you're getting one of the complete emulators out there. It's designed to download T64 files from the internet, load them to your computer, and then use them inside the emulator. It's an easy way of getting into gaming, allowing you to play those games almost instantly.
You're also getting the full interface of Commodore64 with this emulator, which no other emulator can do. This old-school interface is a nice touch.
Then you can use your keyboard and mouse to control the interface, but you can also utilize a controller. It gives you more freedom to decide how to play these games.
Basic Settings
You'll also have some basic settings for configuring your experience in the emulator itself. You can toggle the app to full screen, mute sounds, toggle max speeds, use audio enhancements, and all other settings to help you get the most out of the emulator.
Conclusion
Hoxs64 is a Commodore64 emulator that will help you play vintage games and experience the platform again.