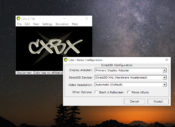 Cxbx is an efficient and highly popular Xbox emulator that will allow you to play Xbox games on your computer without using additional hardware to make it happen.
Xbox is one of the two of the most popular gaming platforms in the world. In terms of popularity, it's right behind Playstation and Nintendo, but it has a stable player base.
Many people are loyal to the Xbox brand, which has produced some epic games throughout the years. It's now possible to re-live those games on your computer.
You can do that with Cxbx, which is an emulator that aims to help you play old Xbox games on your computer with ease.
It is meant to help you play older games specifically that you haven't played in a while, as it acts as an emulator for the games you own, giving you support for over 60 Xbox games.
Supports Over 60 Games
Cxbx is, sadly, not an active project anymore. It used to be a heavily supported project that many people were behind it, although it has died down recently, sadly.
But over the past few years, it has grown into a relatively big project, so it has included some of the world's most popular Xbox games into its platform.
Despite that, you'll still find a nice library of 60 Xbox games. The majority of these games are some of the most popular games in history, as you'll find many different titles that many people still play for fun.
Import and Set up Games
You'll get the ability to import your favorite games into the platform itself, as long as the emulator supports the game.
To import the games, all you'll need to do is select the file you want to import and get going.
The app also comes with several settings and configs that will help you make the games even better.
Conclusion
Enjoy the most popular Xbox games on your computer now with Cxbx, an Xbox emulator that enables you to play some of the most popular Xbox games in history.