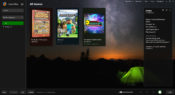 LaunchBox allows you to keep your game library organized by sorting your games neatly in one library where you can see all installed games, games from Steam that you haven't installed, games from emulators, your DOS games, and games from other platforms.
Almost everyone has several games in their library, either installed or not. The problem comes when these games are collected in different platforms and their libraries, and there is no centralized platform where you can keep them in one place.
You have Steam, Origin, or other platforms, which creates a very unorganized feeling.
LaunchBox lets you easily see what games you have installed and which you own in just one place.
You can see exactly how many games you have in your library, whether Steam games, DOS games, emulated games, or other games from other sources.
Add Games Easily
Once you get new games, you can add to the collection to keep things even more organized. For this, you'll have a very intuitive wizard at your disposal.
This import wizard will sometimes automatically detect new games, although it doesn't always effectively do that. For this reason, you can always add games manually to the list of games.
You can add games manually with this wizard relatively easily, although you must enter some information first.
Namely, you'll need to fill in various fields, such as title, developer, location on your PC, version of the game, and other details required to make this organized. Some information will be filled in automatically, though.
Add Emulators and Modern Games
Another great thing about this app is that it supports emulators, which many other tools don't. For this reason, you can easily add emulated games like DOS games and different types of games.
It integrates with the DOSBox, ScummVM, Windows games, and other platforms.
The app also allows you to see all the information about games and emulators when needed –access the database and look.
Conclusion
LaunchBox is a great application that lets you keep all your games organized in one game library.