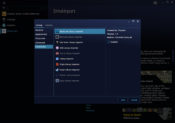 Playnite is an intuitive platform that will hold all your favorite games, including games from Steam, GOG, Origin, and Uplay.
Steam was one of the first platforms to exist and is still one of the largest. But having many different games on different launches can be time-consuming and unorganized.
Playnite helps you solve that issue by adding your favorite games on various platforms to just one interface. With it, you'll be able to manage your library of games regardless of whether you have them on Steam, Origin, GOG, or Uplay.
You can also install and launch games from here with ease.
Import Libraries
When you first go with this application, you'll want to import the libraries of games you own. It is very easy to do – you'll need to provide the platform with your sign-in details for various gaming platforms, and the games should be added to your library instantly.
It makes it easy for you to manage your games.
Launch and Organize Titles
In addition to importing games from various libraries, you can keep them as organized as you want and launch games from here. All you need to do is install your games and then launch them by double-clicking on the game icon you want to launch.
You can also customize the views for your interface, as you can organize your games into categories if you want.
It gives you much control over your games and how you view them and more control over which games you decide to play.
Conclusion
To conclude, Playnite is an all-in-one platform for organizing game libraries that you own with different services, including Steam, GOG, Uplay, and Origin.
You can launch games from here and perform other actions with your games.