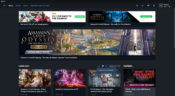 Ubisoft Connect (Uplay) is an application where you can access all of your Ubisoft games, get the latest game-related news, buy and download new games and content, organize your games, and keep them up to date automatically.
Gamers are nowadays spoilt for choice when it comes to game providers and their clients. Steam is arguably the most popular one, although some strong contenders exist, such as Origin, Epic Games, Blizzard, and others. Ubisoft Connect is also popular for gamers, as it has some of the most played games on its platform.
It allows you to download and update your favorite games, keep them organized in one place, and buy new games simultaneously from Ubisoft. You'll also get access to the latest news related to your games and receive special information.
It's free, as long as you have your Ubisoft account and some games on the account.
Get News and Games by Ubisoft
Ubisoft has long been one of the world's largest and most popular game providers. But for some time, they suffered because they had no dedicated application to keep all of their games in one place.
This tool is Ubisoft's solution to that. With it, you'll have access to all of the most popular Ubisoft games, such as Rainbow Six Siege, Assassin's Creed, The Division, Tom Clancy games, and many other titles familiar to gamers from all over the world.
You'll be able to buy and download the games with this utility and get the latest news surrounding these very popular games.
At the same time, you'll get automatic downloads for the games you own on this platform and get the latest news and title updates.
Get Social
It allows you to easily connect with your friends and make new ones as you play the games on the platform. You'll be able to add friends on Uplay and talk to them easily. It can be through chat, or you can also chat with them through voice chat easily.
It creates a strong sense of community, although the community is still not as strong as with Steam.
At the same time, you can win achievements as you play games and show them off to your friends. You can also buy new games and items for the games, such as cosmetic items that are not available in-game.
Of course, a huge appeal to Ubisoft Connect has been the immense library of games you can access. Some highly social games, such as Rainbow Six Siege, have to collaborate with your teammates and chat with them.
Conclusion
Ubisoft's Uplay is a gaming platform where you can download and buy Ubisoft games, keep them automatically updated, and view your library of games easily. Also, you'll be able to connect with new friends and chat with them easily.