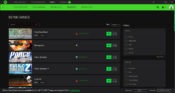 Enhance your gaming experience with Razer Cortex, which comes with various set tools and features that will help you obtain an improved PC performance and act as an app that will serve as an in-game feature.
FPS matters, especially for hardcore video gamers. Many of them prefer to have better performance overall rather than fancy graphics, although having a mixture of both can be nice.
It is achievable if you have the right skills and knowledge about your hardware and the game you're playing, but it's even easier to have the right tools to do it.
One of them is Razer Cortex, a simple application designed to help you get a better gaming experience. It will act as a feature that you'll use in-game, and it offers you several tools that will help you enhance and improve the gaming experience.
It is designed to help you tweak your PC and your game so that you get better performance.
Simple and Elegant Interface
The first thing we must mention about this app is that it comes as an in-game addon, and it also has an interface that you can open separately.
That's what you'll need to do first before you launch any games with it. First, you'll need to detect and acknowledge all of the games that you have installed, which the app will do automatically, too.
Additionally, this application is designed to help you to compare the prices of different games across different online forums or websites, including Amazon, Green Man Gaming, GameStop, Origin, and many others.
Manage Games and Improve Performance
Once you have found all of the games and set up the interface, it's all about tweaking and improving your gaming experience. You can use the Automatic Boost option, which will use automatic tools to detect your PC's hardware and make the changes accordingly.
It enables you to get a better experience when you're gaming without making too many changes yourself.
Conclusion
Razer Cortex allows you to have a better gaming experience by allowing you to tweak your computer and your games so that they run better, smoother, and provide a better overall gaming experience.