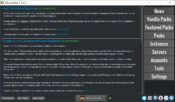 ATLauncher is an open-source mod launcher for Minecraft. It is a popular game launcher which is hassle-free and straightforward to use. With this tool, installing mod packs is comfortable, and anyone can select from 387 mod packs available. You can browse for new mod packs or use the search feature to select a mod of your preference.
It has a feature to create private instances that lets you create your world where you and your friends can play without any disruptions from the rest of the Minecraft players. The leaderboard gives you stats that improve based on your score and how much time you spend on playing. If you love competitive gaming and different mods, it is the right game launcher for you.
To install the application you need to download the .exe file and install it on your computer by specifying the path of the folder and a series of quick confirmation clicks. ATLauncher by itself does not have a Minecraft game included, and you need to have a copy of Minecraft to launch the game.
The interface of the launcher looks quite different compared to Minecraft. The menu follows a different layout. It is a small con that you need to get used to. Otherwise the application is simple to start, launch, and use.
ATLauncher is one of the most downloaded launchers compared to other tools such as SKlauncher and TLauncher, even though all of them claim to be the top picks. The community aspect that backs this launcher makes it one of the friendly mod launchers available today.