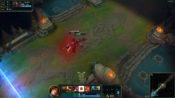 Want to play League of Legends? Then download this League of Legends client, which will allow you to sign in to your account and manage it and start a new game whenever you want to.
It is one of the biggest games in the world. It's a MOBA game that has gained a lot of popularity in the early 2010s but has grown into a gaming behemoth in the coming years. It's a popular game for streamers and competitive gamers, as it gives players an insane amount of options in terms of style of play.
Through the client, you'll be able to manage your account, get new champions, manage the runes and your inventory, get new skins and purchase new champions, and enter new games.
Free to Play
One of the best things about this game is that it's completely free to play. Sure, you can purchase some items inside the client, but these are mostly cosmetic. What matters is your ability to play, and concentration is highly important with this game.
Inside the client, you'll be able to manage your account and unlock new champions, buy new runes and skins for champions, as well as do other changes that you might want to make to your account.
The client also acts as a gateway for starting new games, so whenever you feel like playing a new LoL game, just hit on "Play" and get it started.
One of the Best Games
League of Legends has established itself as one of the most popular games in the world. It has millions of users worldwide, and all of them will need to download this client to play the game. You'll want to be mindful of the region of your account, though, before you download the client.
You can have a map through which you require to find the appropriate location. Moreover, the game's regular updates ensure that you can have maximum fun while playing it.
Conclusion
To conclude, this League of Legends client will allow you to manage your LoL account and start new games. time.