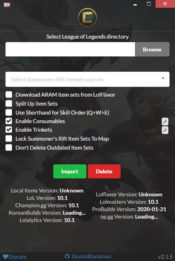 Championify is an application to enhance the characters from League of Legends. So, if you are one of the fans of the game, you can quickly get this application to enjoy it to the fullest. It allows you to have a look at some characteristics and skills sets that could make the best outlook of a particular character. The recommendations of the skill set for a specific character are gathered from the top players and some of the top websites so that you can have all the relevant information at a single place.
Once you have the information about the skill set, you can download it directly from the application. You need to select the particular source and download the skillset that you'll like. This downloaded skill set would be automatically updated in your game without breaking it.
Moreover, there are several customization options that you can exercise while using Championify. One of these many options is to limit certain items to be available on specific maps but not on the others.
While making changes or finding the right skill set of your player, you need to keep this in mind that these skill sets would work best in the situation if you are involved in a competitive play. However, if you are playing casual matches, then this won't be quite helpful for you.
Championify is a tool to help the League of Legends users find the best skills and implement them in the characters with ease.