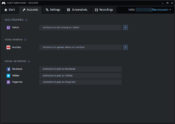 XSplit Gamecaster is the complete solution for creating footage of your in-game gameplay, as well as for capturing snapshots, live streaming, and performing other tasks as you play your favorite games.
If you're creating content for your Youtube channel as you play your favorite games, or if you're a streamer, then you know about the importance of having the right tools for the job.
This app will help you stream on Twitch, upload videos to Youtube, or post new videos to Twitter or Facebook with ease, as you'll be able to connect your accounts to get started.
Link Social Accounts for Easy Use
XSplit Gamecaster makes it easy for you to upload the content you create to your favorite platforms right away. You won't have to access your library of content to upload it – instead, you'll only need to link your social media accounts to get started.
For example, if you prefer live streaming, you might want to connect your Twitch account to this app.
Or, you can also connect a Youtube account, which is especially helpful if you like to create video content. You'll also have the ability to join other social media accounts, such as Twitter or Facebook.
Easy Set-Up
You'll have comprehensive functions when setting up your account and making sure that the content gets saved wherever you need.
You can specify the folder where the files get saved and change various settings when it comes to streams, video footage, or screenshots, giving you complete control over the content you create with this app.
Conclusion
To conclude, XSplit Gamecaster is the complete tool for content creators. It will let you create video content, live streams, and other types of content and upload them straight to your favorite platforms.