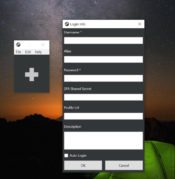 If you are using more than one Steam account on your device, then this application can save you from all the additional hassle.
Steam Account Manager can handle multiple accounts by saving all your credentials. You need a click of the mouse to get the access to your desired account. Moreover, there is no security issue involved while using this application. All the passwords can be encrypted and stored in the rooted file. So, you can be sure that all your passwords are safe.
Additionally, it is portable, so you can take it on any of the systems and access your account with the same ease as you could have done on your device. The use of the Steam Account Manager is simple. You need to enter your details in the application for the first time. Upon the successful completion of this procedure, you can see your account in the form of tile in the application. Whenever you need to log in, you need to press the particular tile.
You can even customize some of the settings mainly related to the display. However, it cannot be sent to the tray. Once it is started, you'll have to see it as the Window on your desktop.
Steam Account Manager is an application to handle the multiple steam accounts from a single computer with ease.