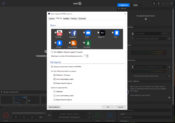 If you are fond of games, then you'll probably be excited to share your progress with the other game players. Now, this is possible through Game Capture HD.
It can make it easier for you to capture your game screen and share it with your gaming friends. The quality of the picture captured through this screen recorder is 1080p HD. Thus, you can get a profoundly clear picture of the importance given to the minor details of your game.
This application also supports flashback recording. So, in case you have performed exceptionally well in the game and didn't capture it earlier, you can go for this mode of recording, and your progress will be recorded.
The connection of this application with modern game consoles is possible. So the device you are using for playing games is no longer a barrier to showcase your strengths. You can even live stream your game, highlighting the tactics that you are using right away with your audience.
YouTube and Twitch are supported with Game Capture HD. You can manage live streaming with these applications and show your game to the audience in real-time.
Game Capture HD is a handy tool to share your game experience and success with your friends and fans.