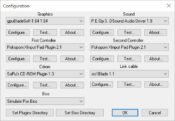 PCSX Reloaded is a fan-favorite Playstation emulator that allows computer users to experience playing some Playstation-only titles on their computers.
Even if you're a PC fan, there's no denying that PlayStation has had some great exclusive titles over the years. These games were only available for PlayStation users, while computer users could only watch others play these games.
If you want to try some of the older Playstation games on your computer now, the best bet is to get an emulator like PCSX Reloaded. Sure, it only supports some of the older games from PS, but still, if you've been long in the gaming business, you must get nostalgic sometimes.
When you think about the good old PS games you once played – you can play them again on your computer now.
Access Old Games from PS
If you often get nostalgic about the old games you used to play on your PS, but you can't anymore because you might have moved onto your computer, then you need an emulator like this. It will help you play most Playstation games from the 2000s, even the late 2000s.
There's no denying that there were some great titles on PS back then. Whether it's Crash Bandicoot or some other games you played in childhood, this app will satisfy your needs.
Some emulators are out there for PS games that aren't the best optimized. You'll be pleased to know this one isn't one of them.
You can expect this emulator to run smoothly. You can access most of the games straight from the emulator, and the good news is that the files are relatively small, so you can easily download them.
This emulator lets you play your favorite PlayStation titles anytime from your computer – even without a controller!
Conclusion
PCSX Reloaded is a PS emulator that allows you to play old Playstation games on your computer. It runs smoothly, and it has an impressive library of games.