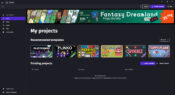 GDevelop is a game engine that you can use to craft great 2D games, as it offers an impressive array of options that you can use to develop games and develop the knowledge and skills needed to create great ones.
Game development is becoming increasingly popular. Many people are learning it from scratch, although it can take time and dedication. That's especially true for 3D games, although 2D games can also get complex if you want to get into more detail. But these are a bit easier to get into.
And with a platform like GDevelop, you'll be able to learn some new tips and tricks along the way and use some impressive options within the tool.
It's an open-source and cross-platform game development engine that allows you to make interesting 2D games and learn a few new things.
Easy to Use and Learn
One of the main advantages of this app is that it's friendly for beginners. It's a fairly lightweight platform that can be launched anywhere, even in the browser. So you don't need to have a powerful engine to run this thing.
It comes with a clean and simple user interface. You'll be able to see where all the game development tools are. And if you're an absolute beginner, then the app comes with some nice demos and tutorials to help you master this tool's development.
It's impressive, especially for beginners, but also for some more advanced programmers.
Create Games Without Prior Experience
GDevelop is especially known for its friendliness towards beginners. You may start developing as soon as you launch the app – open it, and you're in it instantly.
When you want to create a specific game style, you'll have a helpful demonstration ready to show you how it's done. It's a great platform for developing simple and also complex 2D games.
Conclusion
GDevelop is a user-friendly game development platform that will provide beginners with many tips and tricks.