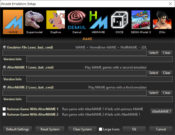 With Emu Loader, you will be able to access all of the most popular game and console emulators in one place, allowing you to manage them and use them more conveniently.
If you want to play games from your favorite game platforms and your preferred consoles, emulators represent an excellent option. They allow you to relive your memories and play games that you cannot play on your main system.
One of the problems here is that you'll have to know how to use the console to use some of these.
You can easily avoid this issue by using the Emu Loader. It is essentially a manager for your emulators where you can manage them all in one place.
It will provide you with a graphical user interface for all of your emulators, allowing you to solve the problem of having to open and use the console.
Configure and Get Playing
It should be noted that this application will require some configuration before you get it to work. The setup of the application itself should be easy enough for anyone. Still, one of the main problems arises when you want to decompress the archive inside Program Files or User Folders. It's best to read the guide for installation before installing.
You can add the emulator of your choice when you get started. When you load the list, it might take some time to get all the emulators to appear on the list. From there, you can select the emulator you want to use.
Many Emulators Supported
One of the best things about this app is that it will provide you with some of the most popular emulators out there.
These include emulators for PS2, Nintendo GameCube, Nintendo DS, Sony PSP, Nintendo Wii, etc. This way, you'll have access to the most popular emulators out there.
Conclusion
Emu Loader is your go-to app when you want to access emulators in one place and manage them easily, making it easy to use them without using consoles.