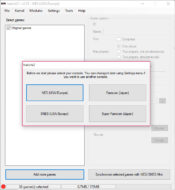 Hakchi2  has been designed to provide you with better management of games for your NES/SNES Classic Mini. The interface of the application has been kept simple by the developer to ensure that the beginners and experts can manage it within no time.
It allows you to change the settings of the games. These settings are not limited to the visual changes rather command-line arguments are also changed as a result of this application. Moreover, this application can fill in the data in the database automatically, facilitating you in the best possible way.
Additionally, Hakchi2 checks for the supported games and provide you the search field for enabling better results.
In case any of your game is facing a problem, then you can use this application, and it would fix the game by using game patches. With this utility, you can upload a large number of games all at once, thus saving your time and providing you with better efficiency.
Enabling autofire, stimulating start button, disabling epilepsy protection, and the facility of implementing moding and changing the themes of the game are the added features that you can get through this application.
Hakchi2 is software to facilitate you in modifying the games and making them more adaptable to your needs.