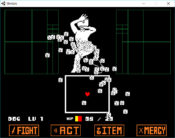 UNITALE is not an easy-to-play, free puzzle game built on a framework that will allow you to play in a 2D environment. You will see that it will be easy to navigate the story by playing this one out and understanding how it works. You can select the action you want to do to pass through the story.
The game isn`t very old, but it has been designed with straightforward game-developing technology, which gives you the impression that it is an old game, although it isn`t. You will have to select the options that are presented to you as you play the game, and you will see that, at times, there will be different options available for you, such as "Fight", "Act", "Mercy" and even "Item".
Each action will do something different in the game, and you must use these actions to pass through the story. All of the backgrounds will have a 2D style and appear as they were drawn in Microsoft Paint.
If you have ever played "Quest for Glory," you will undoubtedly find similarities between this game and that one. You will be intrigued by the fact that this game looks unusual but attractive.
Don`t expect to have to deal with an epic story, but hope to be kept focused while playing it. It won`t have the mechanics you would probably think of, and you should also know that this game was made especially for people who want to see where it will lead.
Anyone can easily play it, and it was made especially for people who want to try out an exciting new game that will improve their day. This one was made with fundamental programming and game-designing tools, and it is an excellent choice for people who want to try something new.
The unique redeeming feature will make this game different from other old games, which means that every player will undoubtedly enjoy playing UNITALE.
There will be other game references in this one, and as you will see in one situation, the player will need to even play against the teddy bear from "Five Nights At Freddy`s" game.