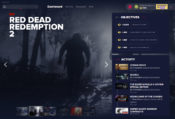 WeMod is specifically for gamers searching for an application to provide them with all the possible mods of the game they like. It is such an application that contains mods for more than 524 games in a single place. You don't need to modify the original games before playing.
Instead, WeMod can ensure the auto-detection of the game and the automatic incorporation of modding into it.
Moreover, games are constantly added to the existing modding list so that you can find every possible game on a single platform. You can even contribute to the forum by giving suggestions about the games that must be added.
Furthermore, you don't have to worry about the hotkeys enabling modding in a game. The application can facilitate the entire process, and you can focus on playing your game.
WeMod is an application that helps gamers find the mods of their favorite games on a single platform that is easy to use.