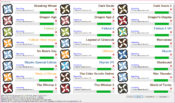 Nexus Mod Manager is an open-source mod manager for Nexus mods, which are mods for some of the world's most popular games, created by game lovers to enhance the gaming experience.
Do you want to try out a new mod for your favorite game? Then, you can download Nexus Mod Manager, a mod manager for Nexus mods, which are some of the most popular game mods in the world.
With this manager, you can tap into thousands of mods for over 800 games download and install them.
Supports Over 800 Games
One of the best things about this application is that it supports many games. In it, you'll find all sorts of mods for over 800 different games. It doesn't matter what game you like. You'll find something for your gaming preferences here.
It includes some of the most popular games, such as Skyrim, Dark Souls, Fallout, The Witcher 3, and many others.
Get Your Mods Instantly
One of the best things about this Mod Manager is getting your favorite mods in seconds. It features browser support and integration, so you'll only need to do a couple of clicks before you can get your favorite mods.
At the same time, you can browse the mod selection and see which mods are offered without ever opening a browser.
This application was originally released in 2015 but has evolved significantly since then. Daily, new games and new mods are added, so you'll be able to enjoy something new almost every day.
Simultaneously, integrating mods into your favorite games is faster and more seamless than ever. You won't have to waste your time installing your mods.
At the same time, this app can act as a launcher for your favorite games. So you can play and launch games straight from this launcher, too. This app is a must-have for anyone who wants to customize their gaming experience.
Conclusion
If you like mods, you must look at the Nexus Mod Manager, which lets you download and install mods quickly and easily.