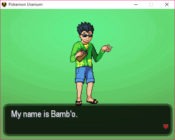 Pokemon Uranium is an awesome unofficial game developed by a small team in a few years for Pokemon's real fans. It is a game based on the Nintendo DS system, made for Windows, where everyone can play with their favorite characters.
Pokemon Uranium is one of the best games that can offer the experience and everything the fans expect from a Pokemon game.
Like in all these games, you must find the Pokemon. It is your primary mission to see and capture the Pokemon, but in Uranium, you will find a lot of new creatures to catch. Of course, you have well-known characters, but you will find new ones to increase the experience.
If we are to talk about the storyline, we can say that this is not the traditional one. You have to discover many unexplored regions where you will find items Pokemon. That is new and slightly darker, like in all saga games.
You must have the best Pokemon to fight and win each battle. Try to update and train your Pokemon always and improve their skill. It is an essential feature of this game.
When it comes to graphics, we don't have a lot of things to say. It is a simple saga game. Although the graphics details are not the best, the gameplay is important. Pokemon Uranium has excellent control, and you can play it only with your mouse and keyboard without problems; if you want to play it with a controller, no problem, you can use it.
We can consider Pokemon Uranium a real treasure for those who love these little creatures and their battles. Become the best pokemon coach, capture the Pokemon, and have fun!