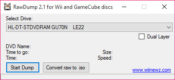 RawDump is a tool that will help you create backups of your GameCube and Wii consoles game discs. It will also help you with ripping GameCube ISO images easily.
But for creating backups that will protect you from this, you'll need specialized software that will do that. And RawDump is exactly the type of software you need in this case.
You can use it to rip your game discs or save content from discs you have to ISO image archives. Whether it's games, multimedia, or other types of content, you can keep it safe with this utility.
Simple and Straightforward to Use
If you have some experience with these types of tools, then you'll have no problem at all. It's a very simple application with a very basic and somewhat simple interface that will help you focus on the task at hand. It has all the elements you need to create backups and rip ISO images. You only need to select the target disc and the content you want to save, and you're done.
You can create ISO images from the data, including RAW data. This feature is great because not many tools can do that. All it takes is for you to order what content you want to convert, and all it takes is one click from you specifying this in the interface.
From there, the app will take over and try to complete the process as quickly as possible.
Conclusion
RawDump is a straightforward application to create your discs' backups and save or backup the content into the ISO format. It's easy to use and has some helpful features to help you keep your content safe.