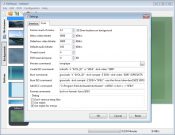 DVDStyler is a cross-platform application for styling your DVD drives, as it allows you to create personalized menus for your DVDs and customize other features about the DVDs you make.
If you're creating DVDs for various purposes, then you must know that the average burning applications do not allow you to customize the DVDs that you make.
Customization on your DVD can make things much better and feel more personalized, especially if you're able to add a personal touch to the proceedings.
With DVDStyler, you can do exactly that. It's a great application to create customized menus in your DVDs, as you can choose from different templates and presets that help you get the job done.
You can also change almost every aspect of the menu and use other customization options to make it even better.
Create Menus for DVDs
The primary goal, or rather, the object of this application, is to offer you a way of creating personalized menus for the DVDs you create.
You'll be able to create menus for DVDs, which includes both personalized menus and menus that you can create from pre-made templates if you wish to do so.
There are also other customization options for creating menus, such as changing the colors of the buttons of your menu, location of the button, shadow effects, background colors and images, and several other features.
You'll have full control over the menus you create using this tool.
Customize Your DVD
In addition to the ability to create menus, you'll also be able to explore some other customization options with this tool, including the ability to change the icon of your DVD, choosing the disc label, selecting the capacity of your disk, audio, and video bitrate adjustments, aspect ratio, format, and several other settings about the DVD.
Conclusion
With DVDStyler, you'll have complete control over your DVD and how it looks. You'll be able to create menus of your liking and alter other customization settings about the DVD, making it feel more personalized and different from the rest.
DVDStyler features and benefits:
support of AVI, MOV, MP4, MPEG, OGG, WMV and other file formats
support of MPEG-2, MPEG-4, DivX, Xvid, MP2, MP3, AC-3 and other audio and video formats

multi-core processor support
allows using MPEG and VOB files without reencoding, see FAQ
allows put files with different audio/video format on one DVD (support of titleset)
user-friendly interface with support of drag & drop
flexible menu creation on the basis of scalable vector graphic
import of image file for background
placing of buttons, text, images and other graphic objects anywhere on the menu screen
changing the font/color and other parameters of buttons and graphic object
scaling of buttons and graphic objects
coping of any menu object or whole menu

DVD scripting