Alcohol 120% 2.0.3 Build 11012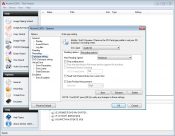 Alcohol 120% is a CD/DVD burning software. Better known for its ripping speeds, this burning tool lets users store CDs and DVDs on their computer, with the possibility to mount up to 31 virtual drives. The Pre-Mastering feature speeds up the burning process by copying files directly from the hard drive. This turns out to be useful when you need to create Blu-ray disks and HD-DVDs.
The interface is wizard-based and very easy to work with, mostly because there aren't that many options to choose from. As for the image formats it supports, the following are on the list: ISO, Nero, CloneCD, and CDRWIN. Different settings are available when you need to copy audio, game or data discs.
Alcohol 120% features and benefits:
Up to 31 virtual drives with a single click of a button
Supports the latest Blu-Ray format and HD DVD (Single and Dual Layer)
Alcohol 120% can mount virtually any image files created, even from other software