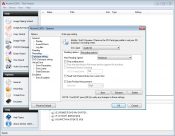 Alcohol 120% is a complete and advanced CD and DVD-burning application that can act as emulation software, providing you with a full set of tools and features to make it easy.
CD/DVD burning is still popular, and one of the best tools you can use for the job is Alcohol 120%. If you've heard of it before, you'll know that this is one of the more advanced and feature-rich tools for burning DVDs and CDs, although it's more than that.
It's also an emulator offering you some configuration settings that will help you out when burning CDs.
Interface Full of Features
It is a relatively simple app, but looking at how many tools there are inside the interface might seem a little overwhelming at first. However, you should not worry too much about that. You'll see that all the tools are neatly stacked in the left portion of the main window, where you can pick the modes of operation for the app.
When installing this application, you will also have the freedom to decide which particular components of the application you wish to deploy.
It is recommended if you are an advanced user and know what you will need from this application for your use case. If you're a beginner, it's better to leave the choice to the app itself.
Create and Burn Discs and Images
With this tool, burning discs and DVDs is easy. You don't need to be an expert in this field to make it work. You will only need to follow the process inside the application, which will guide you through each step of the way. It's fairly simple to use, and you will be able to burn both DVDs as well as CDs.
On the other hand, this application can also act as an emulator for creating virtual images. These can be used for a variety of cases.
Additional functions and features include disc copying and drive erasing, all great features to have when you want to manage the discs and the content on these discs.
Conclusion
To conclude, Alcohol 120% is one of the most advanced and feature-packed applications for burning drives and creating virtual images. It allows you to create images and burn drives with many additional features easily.
Alcohol 120% features and benefits:
Up to 31 virtual drives with a single click of a button
Supports the latest Blu-Ray format and HD DVD (Single and Dual Layer)
Alcohol 120% can mount virtually any image files created, even from other software