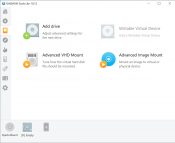 DAEMON Tools Lite is a free virtual drive emulation tool that can mount almost all image files to a virtual drive and create ISO, MDF, and MDX images from CDs, DVDs, and Blu-ray discs.
Users are also given the option to compress these images and protect them with a password. The image collection is easy to handle with the help of an intuitive manager.
Even though Windows 10 has improved a lot over previous iterations, it's nice to know there is a piece of software that can make your life easier.
Lighter Than Ever
This version of Daemon Tools is probably the lightest they have ever released. The average user doesn't need many features that consume RAM and computing power.
Therefore, you can get started using this no matter what kind of PC you currently own.
Superior Emulation
You can do emulation on up to four devices. It includes HDD, SCSI, and DT devices. You can also mount images from various formats: MDS, MDX, VDI, VMDK, ISCSI, TC, VHD, NRG, BWT, B6T, B5T, CDI, ISZ, CCD, IMG, ISO, and MDF.
You can even emulate ZIP files. Plus, if you have some media files from your optical drives, you can make disc images from the following formats: APE, MDX, MDS, and ISO.
Friendly GUI and Interface
The GUI doesn't look like it was stuck in 1995, a problem with many programs today. The taskbar agent is quite handy and lets you bypass many of the complications of this software with easy options instead.
Tray Application
The app doesn't just look and feel great (as you would expect either way), but it also stays out of your way. The tray agent lets you toggle back and forth between your mounted images.
Whether you want to mount or unmount something or view it, it's all available at the lower right-hand side of your screen when you need it.
Lite is the New Winner
People used to brag about Full all the time. But now, it turns out that this version offers better speed, usability, and convenience. Daemon Tools Lite lets you get the full potential of the original software for 90% of its uses.
If you're not someone who wants to spend all day troubleshooting poor code, then skip the hassle.
The GUI is vastly improved in this version. Dealing with older applications can be a pain. With the new Lite tool, you won't notice you're even using an application, thanks to the UI.
To Conclude
All in all, Daemon Tools Lite is a faster version of its predecessor. A lot of people have heard of the name. However, they might have been scared off because of how heavy the application is on resources. Luckily, this version strips features down to the minimum you need for proper disc images and emulation.
Therefore, you can get your images up and running without much hassle, making it a highly recommended application to pick up.