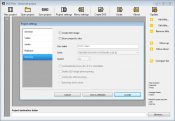 DVD Flick takes video files from the computer and turns them into a DVD playing on a DVD player, Home Cinema Set, or Media Center.
DVD players are still widely used, allowing you to watch videos and movies while enjoying the full quality of the image and your gear. However, one of the biggest issues you might face if you create your DVDs is that you might not play some video files on your DVD player.
It is here to help you solve this issue. It will allow you to convert all your video files to the format most DVD players accept.
The application supports all the most common formats, such as 3GP, AVI, FLV, MP4, MKV, MOV, OGM, and WMV.
Convert Video Files
DVD Flick allows you to create amazing projects to add to your DVD and then play the DVD on your player.
It will first provide you with access to the different file types to convert them easily, and then you'll also be able to burn them to the DVD if you want, giving you a pleasant viewing experience.
Customize Your DVD
DVD Flick also has the option where you can create an ISO file and then convert it or burn it on your DVD if you wish to do so.
You can choose the process settings, which gives you more control over how your DVDs are created and what types of disks you can create along the way.
Then, there's also online help if you don't know how to do something or are stuck. But from our experience, using the application should not be too hard, even if you're a beginner.
Conclusion
DVD Flick is an intuitive application for creating DVDs and converting formats to the DVD format, allowing you to create projects you can use for your DVD player.
DVD Flick features and benefits:
• Burn any video format to DVD
• Support for over 60 file, video and audio formats
• Add custom subtitles
• Simple interface