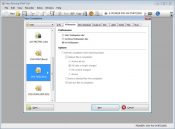 Nero Burning ROM is one of the most popular applications that you can use to burn files to CDs, DVDs, Blu-Rays while also providing you with more advanced settings along the way.
It is one of the most established apps for burning files to CDs and DVDs. Even though burning files to CDs and DVDs is getting a bit old, with the many different types of media available, it's still widely used.
That's why it's important to have a versatile tool like Nero Burning ROM.
Beginner-Friendly Burning Tool
One of the highlights of Nero Burning ROM is its accessible nature. Almost anyone can use this application, regardless of whether you're a beginner or a more advanced user.
When you open up the interface, you'll see that it will look a lot like Windows Explorer, so you might not need a lot of time to adjust to the interface.
If you want to burn files to a CD or DVD, the first thing you'll want to do is insert the disk into your drive and wait for Nero to recognize it. After that, you'll want to create a list of files that you want to burn to the disk, after which the process will be quite simple.
All you need to do then is to start the burning, as you might need to wait for some time for it to complete.
Integrates to Windows Explorer
Another great advantage of using Nero over some other similar burning tools is that it will integrate nicely into the Windows Explorer environment.
It means that you will be able to burn files immediately without even opening Nero and perform other functions with files immediately without opening a separate window.
The burning speed should be quite good, but it will also depend on the quality of your computer, of course. From our tests, it's one of the faster burning tools out there.
Conclusion
Use Nero Burning ROM for burning files to your CD or DVD while also using the many different functions that come with it.
Nero Burning ROM features and benefits:
Advanced, reliable and secure disc burning
Span large files efficiently across multiple discs, automatically
Little touches that makes all the difference

Rip audio from CDs and convert audio
Easily create and burn disc images